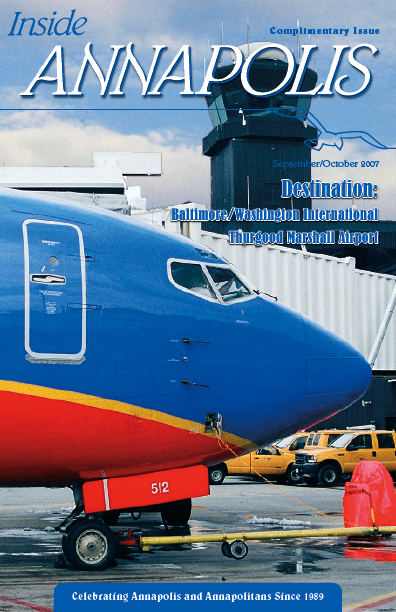 Issue:
September/
October
2007
click to view
Features: Destination BWI
Joseph Patrick Bulko takes a look at Baltimore Washington International renamed in 2005 in honor of United States Supreme Court Justice Thurgood Marshal1 (1908-1993) a Baltimore native. The airport transformations since 1951 when President Harry Truman marched down the runway with the color guard at the grand opening have been profound. The planned conversion to Aerotropolis is the biggest chapter yet.

PLUS: Gioele Settembrini
Gioele Settembrini is an ordained Baptist minister, renowned speaker, an accomplished tenor, devoted husband and father all of which make him an extraordinary person and a very special Annapolitan. M.A. Cashman reveals his life's work and his musical accomplishments in great detail.

Annapolis Editions: Local Authors


Dining Out: Cynthia Severna Park


Crossword Puzzle